🌮🍔 Cougar family, January is here! Make sure to check our delicious 😋 menu for the month. #CougarPride #DistrictOfChampions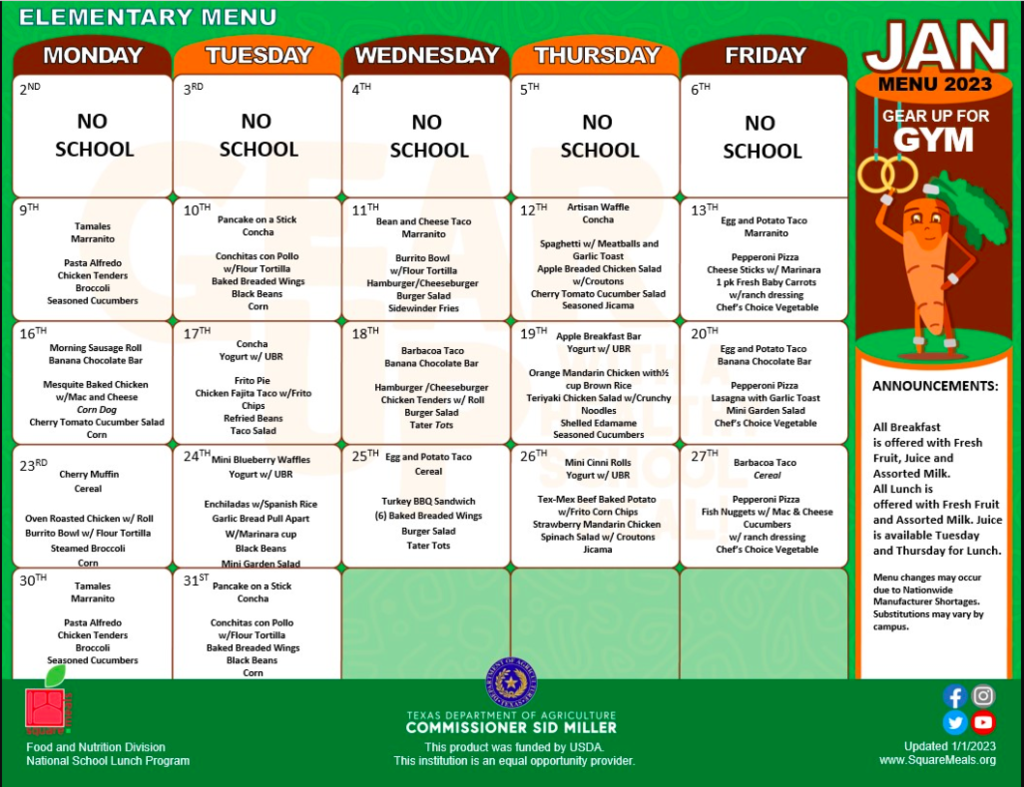 📝 Recordatorio Cougar: Una junta de P.T.O. está programada para el lunes 30 de enero a las 5:00 p.m. en la biblioteca. ¡Esperamos verlos! #Involúcrese #OrgulloPuma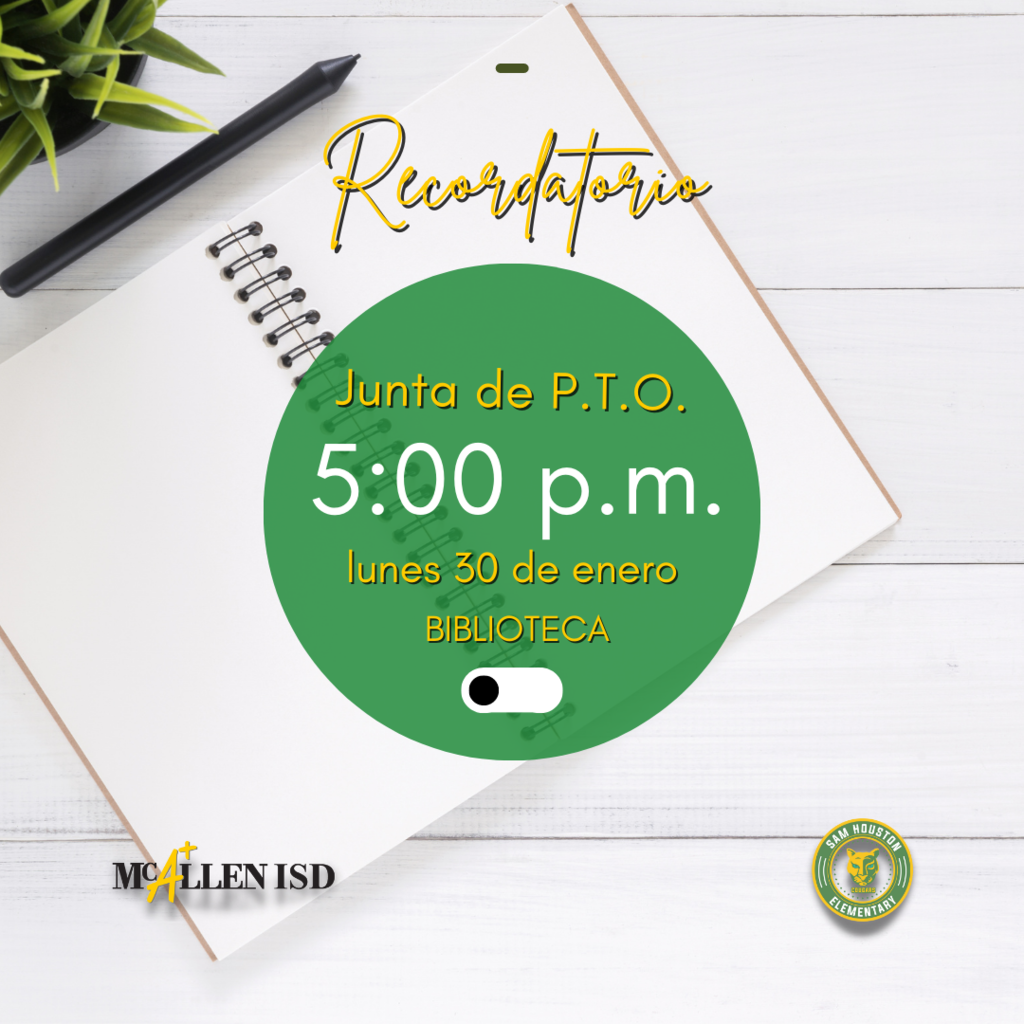 📝 Cougar reminder: P.T.O. meeting is scheduled for Monday, January 30 at 5:00 p.m. in the library! Please join us! #GetInvolved #CougarPride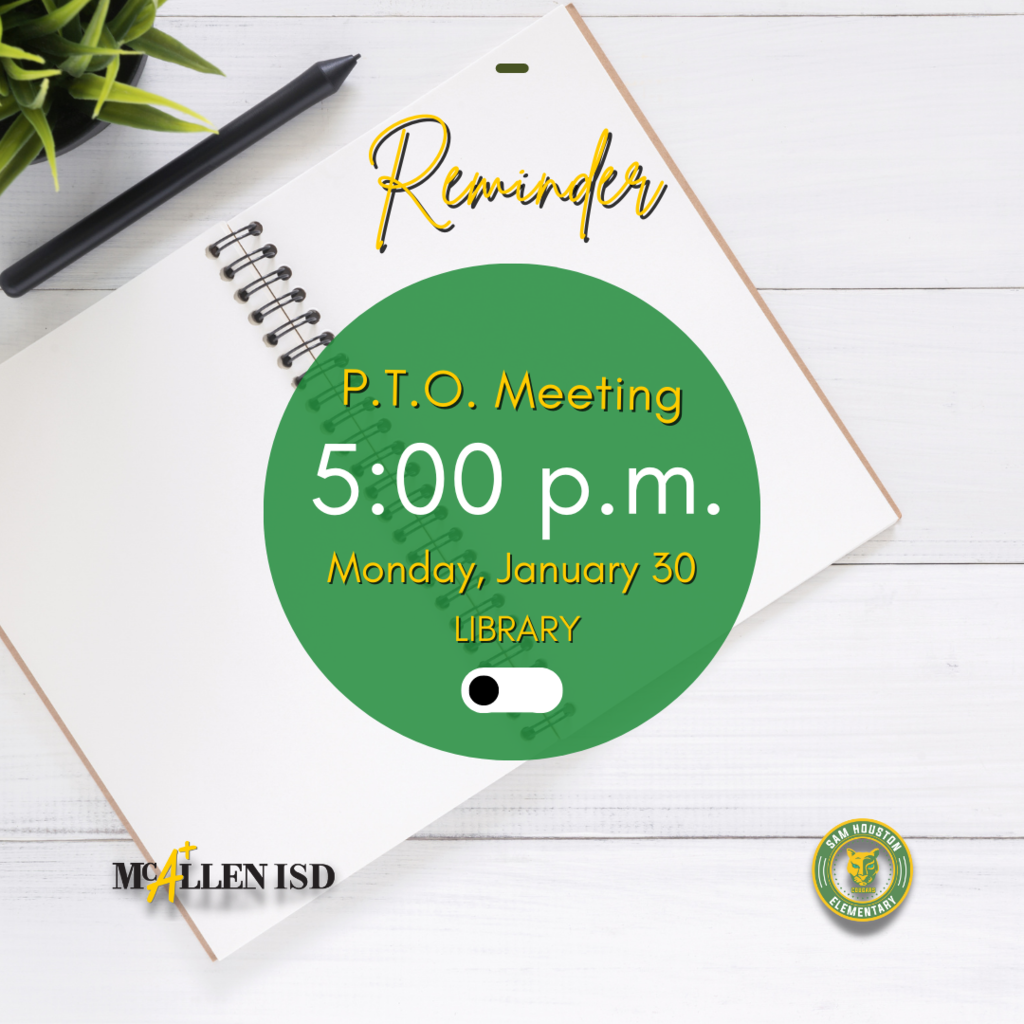 🌆 Familia Cougar, todavía tenemos lugares disponibles el viernes 3 de febrero (8 lugares), el viernes 10 de febrero (16 lugares) y el viernes 17 de febrero (19 lugares) para reservar su recorrido por Houstonville. ¡Llame al (956) 971-1167 para asegurar su lugar! 💚💛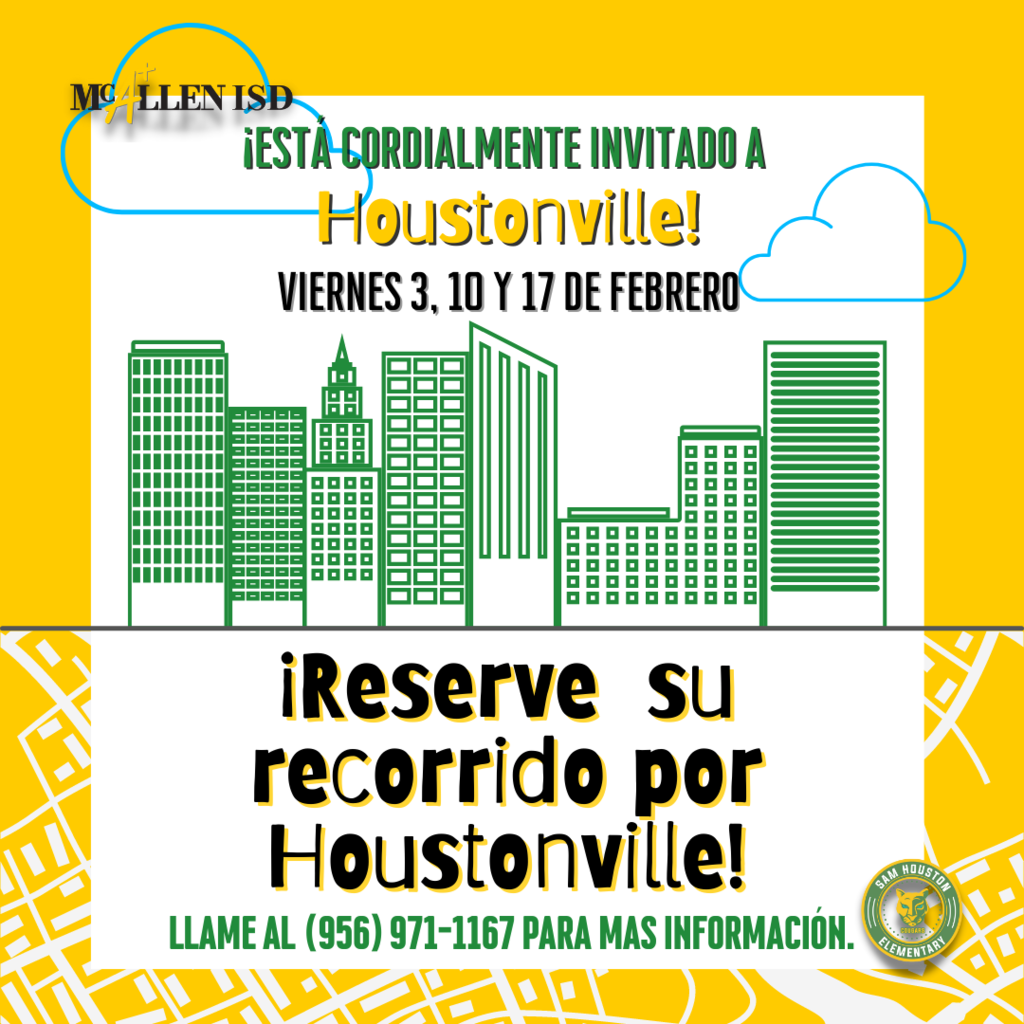 🌆 Cougar family, come visit Houstonville! We still have tour reservations available for Friday, Feb. 3 (8 spots), Friday, Feb 10 (16 spots), and Friday, Feb. 17 (19 spots). Call (956) 971-1167 to secure your Houstonville tour today! 💚💛 #CougarPride #DistrictOfChampions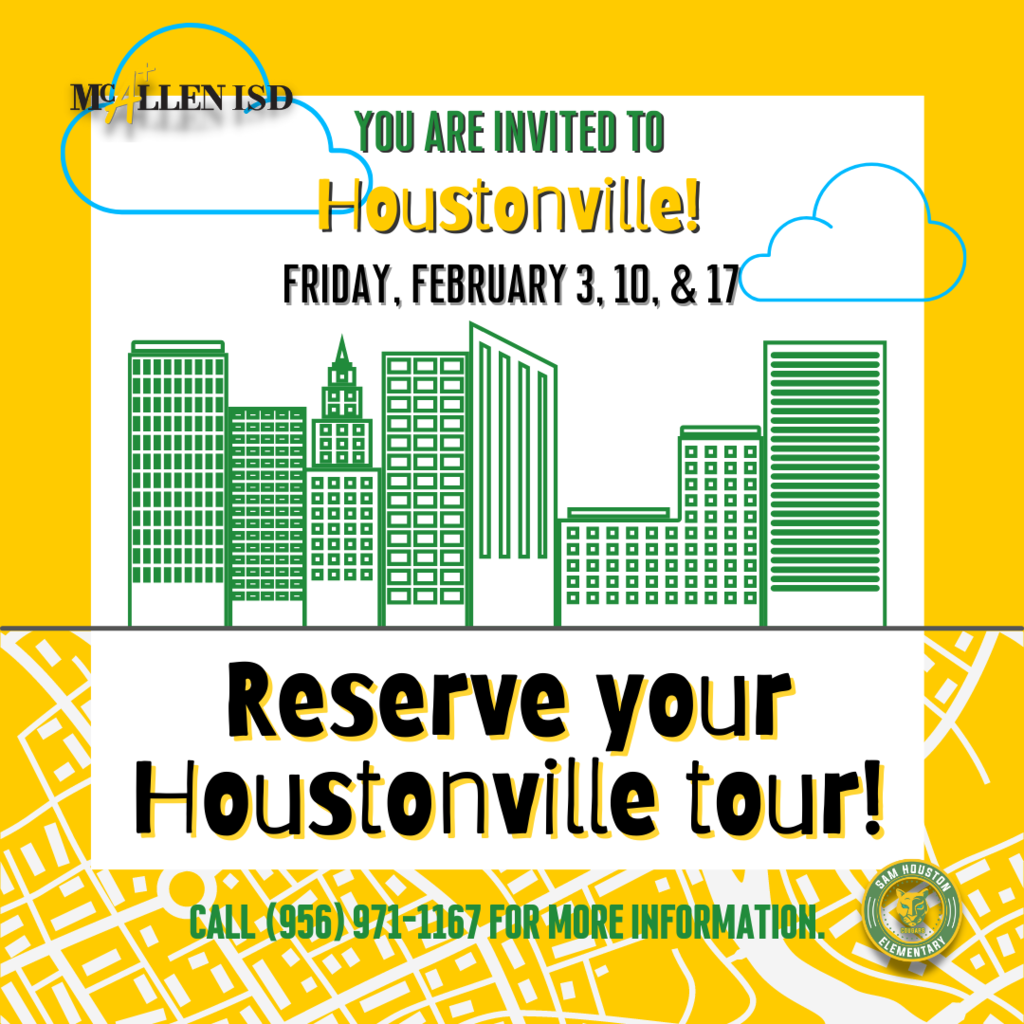 🗓️ ¡Padres Cougar, tendremos una reunión de padres de familia mañana (miércoles 25 de enero) a las 10:00 a.m. El tema sera establecer metas con su hijo(a). ¡Esperamos verlos! 💚💛 #Involúcrese #OrgulloCougar #DistritoDeCampeones #LaGrandezaComienzaAquí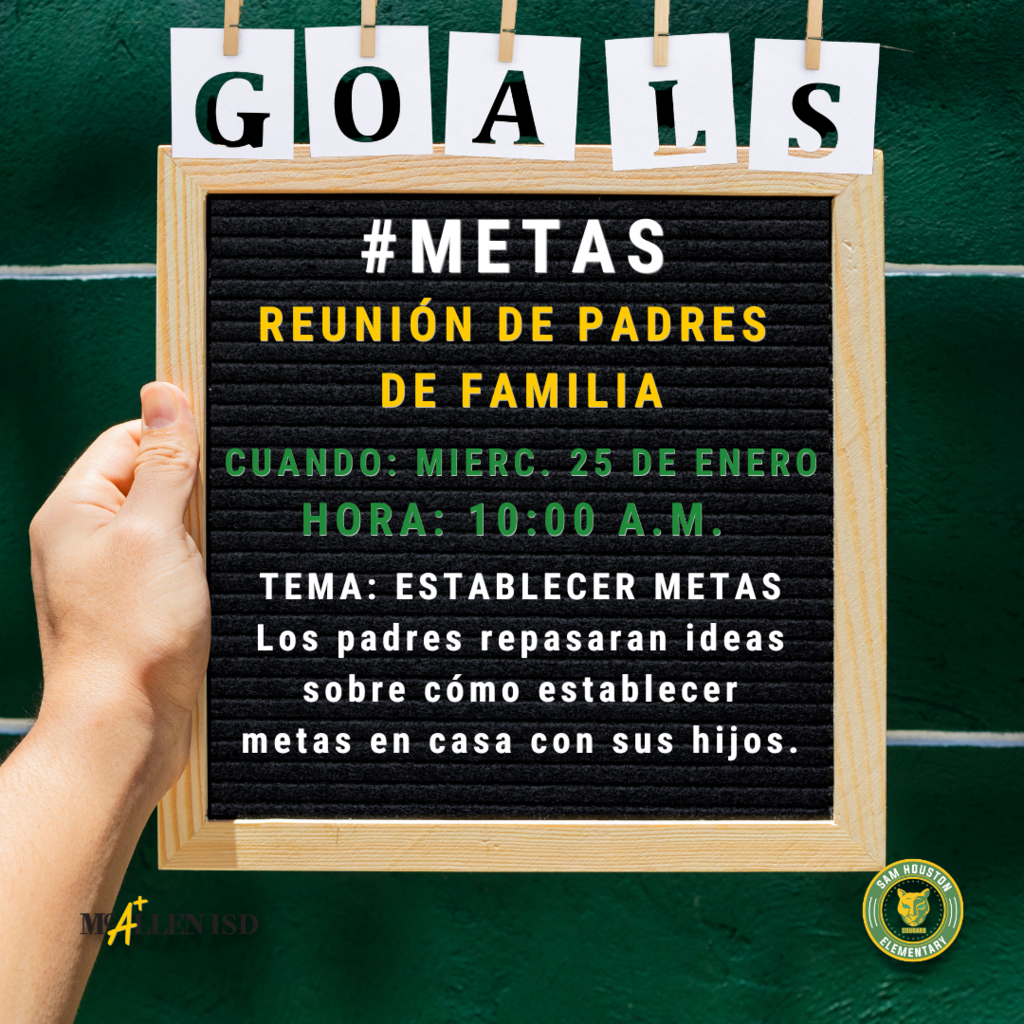 🗓️ Cougar parents, we are having a parent meeting tomorrow (Wed., Jan. 25) at 10:00 a.m. The topic will be setting goals with your child. We hope to see you! 💚💛 #GetInvolved #CougarPride #DistrictOfChampions #GreatnessStartsHere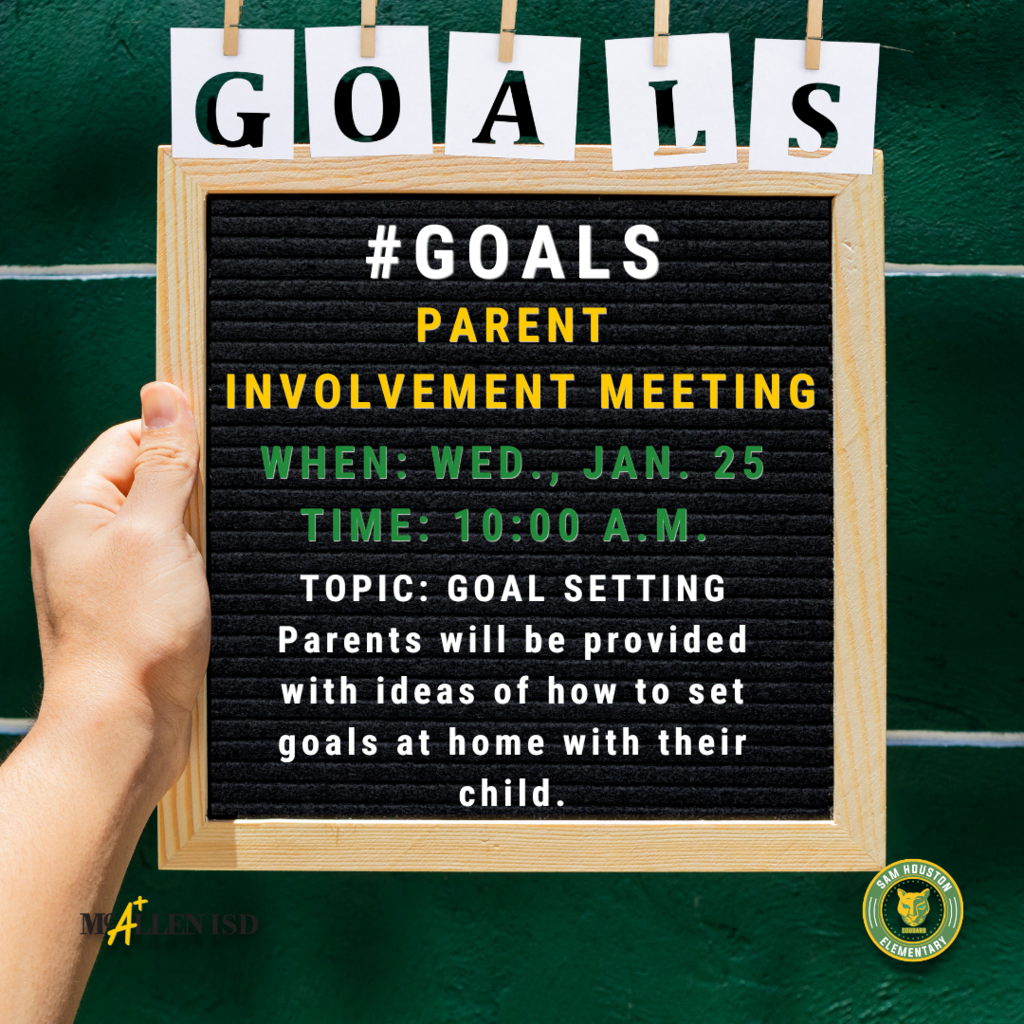 💚💛 Familia Cougar, ¡feliz lunes! 🤗 Están abiertas las inscripciones para el ciclo escolar 23-24. ¡Registre a nuestros Cougars para el martes 31 de enero y ellos serán invitados al Cougar Moonjump Funfest! #OrgulloCougar #DistritoDeCampeones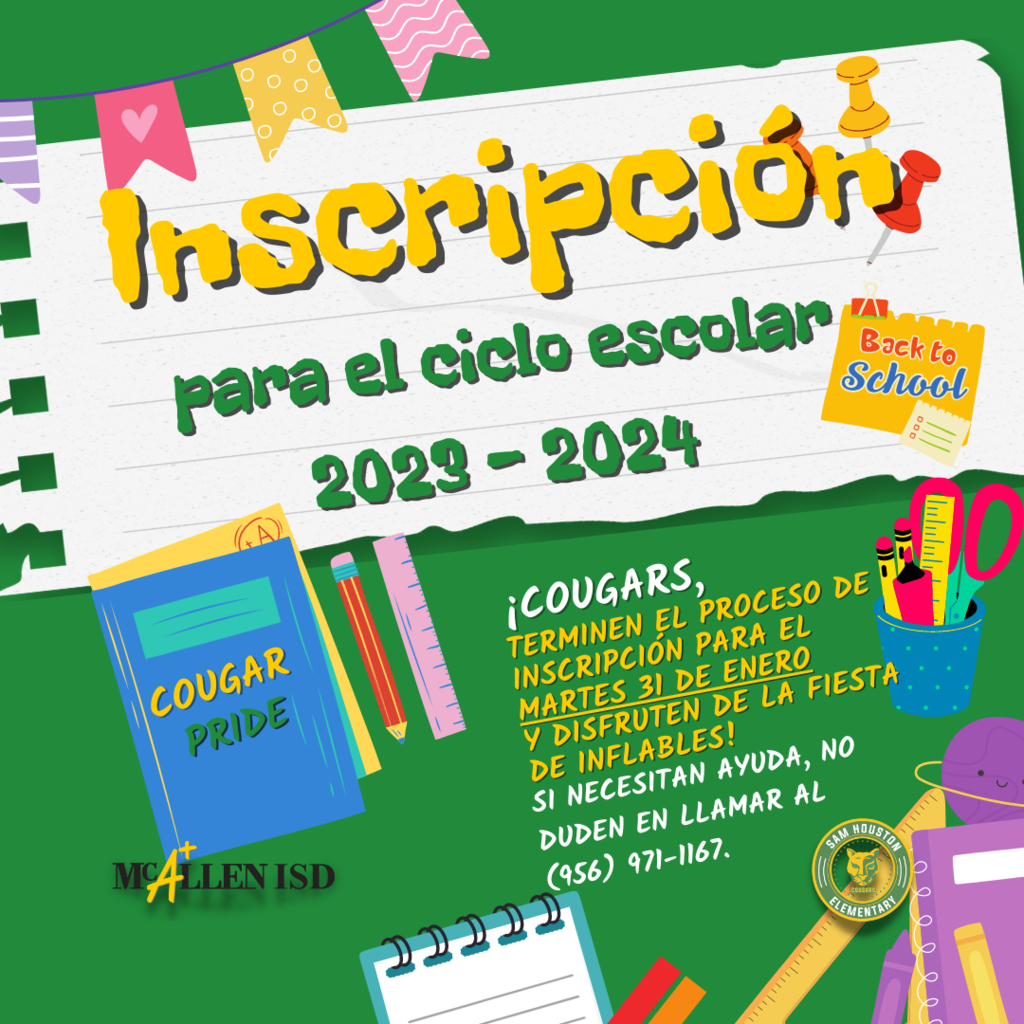 💚💛 Cougar family, happy Monday! 🤗 Registration for the 23-24 school year is open. Please register our Cougars by Tuesday, January 31, and they will be invited to the Cougar Moonjump Funfest! 🥳 #CougarPride #DistrictOfChampions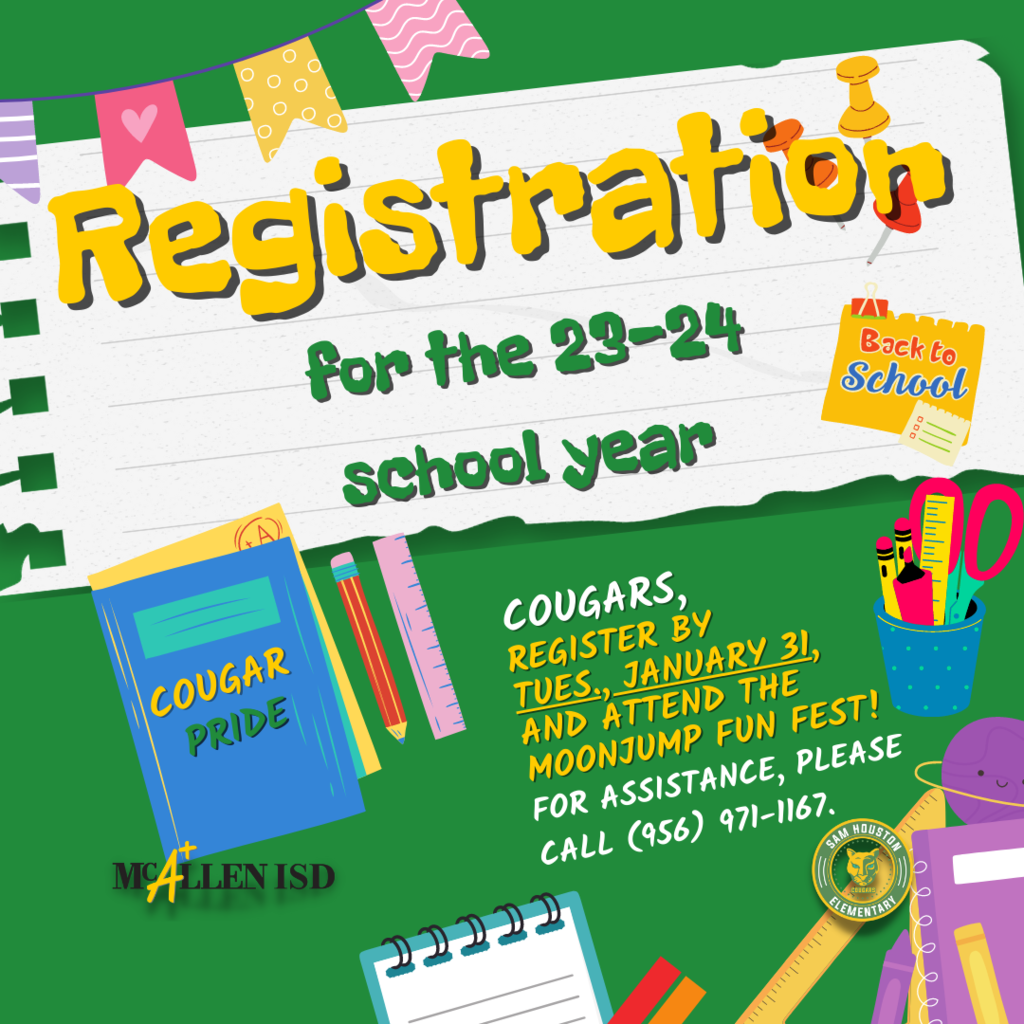 🗓️ Padres Cougar, tendremos una reunión de padres mañana (miérc. 18 de enero) a las 10:00 a. m. para padres de alumnos cursando kínder, 1° y 2° grado. La misma sesión estará disponible a las 5:00 p.m. Puede asistir a la sesión que le resulte mas conveniente. 💚💛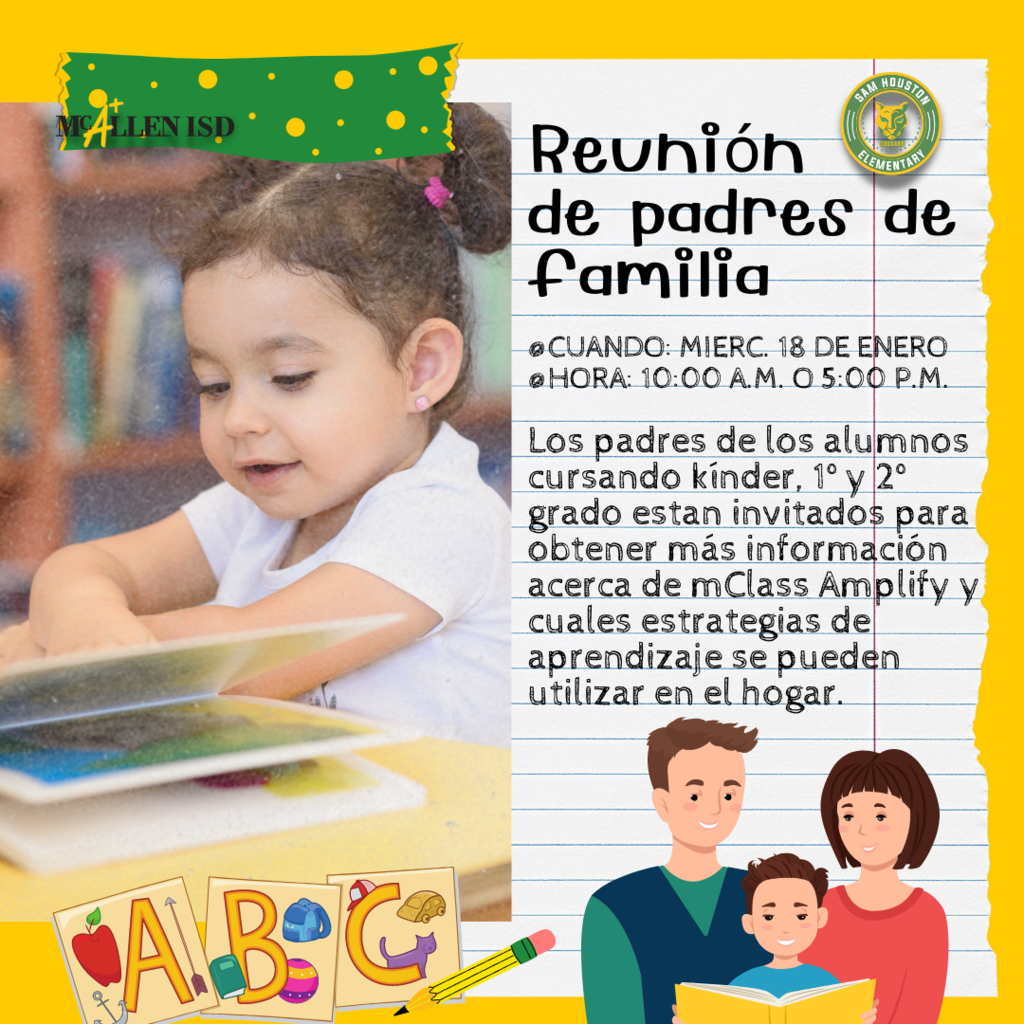 🗓️ Cougar parents, we are having a parent meeting tomorrow (Wed., Jan. 18) at 10:00 a.m. for parents of students in Kinder, 1st, and 2nd grade. The same meeting session is also scheduled for 5:00 p.m. Feel free to attend whichever meeting time is most convenient. 💚💛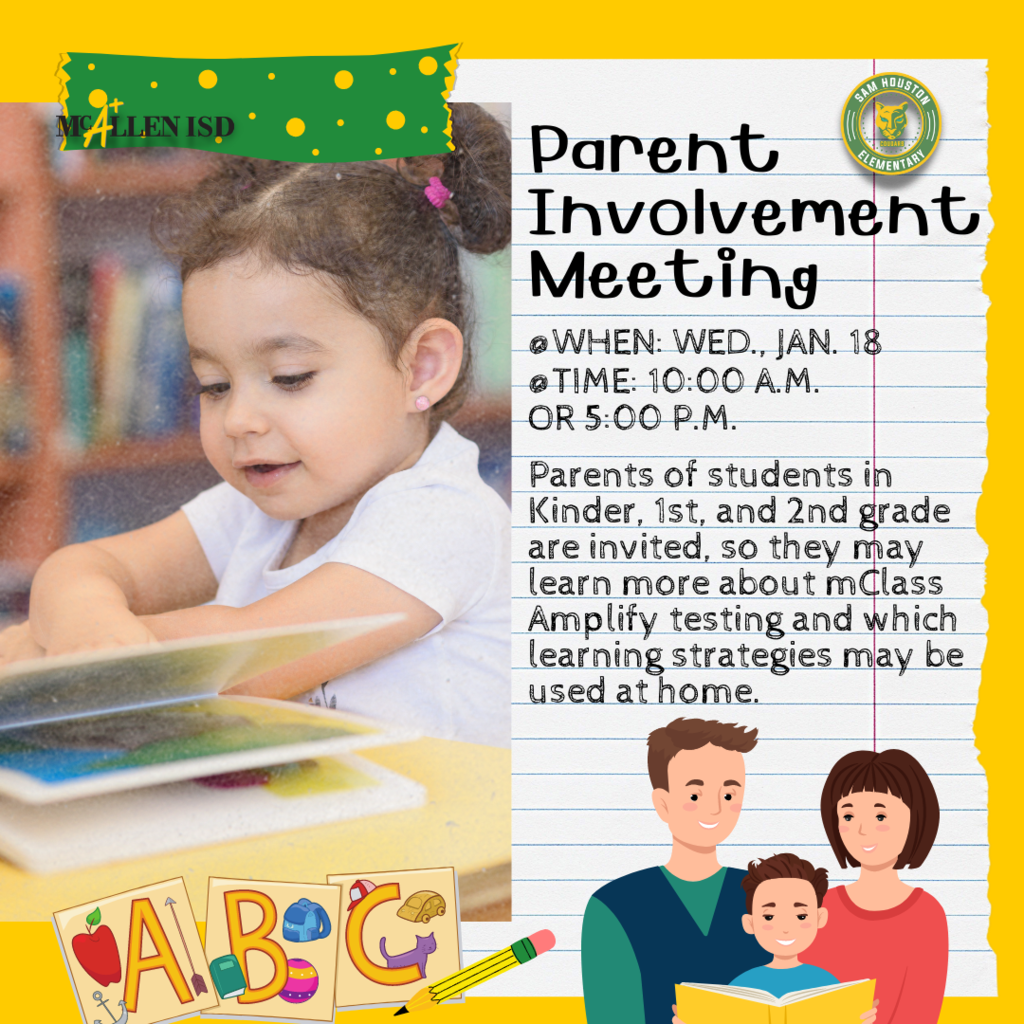 🗓️ ¡Padres Cougars, están invitados! El distrito escolar de McAllen organizará el segundo simposio anual para padres en McAllen High School el jueves 26 de enero de 5:30 pm a 7:30 pm. Inscríbase aquí:
https://parentsymposium2022a.sched.com/
. #OrgulloCougar #DistritoDeCampeones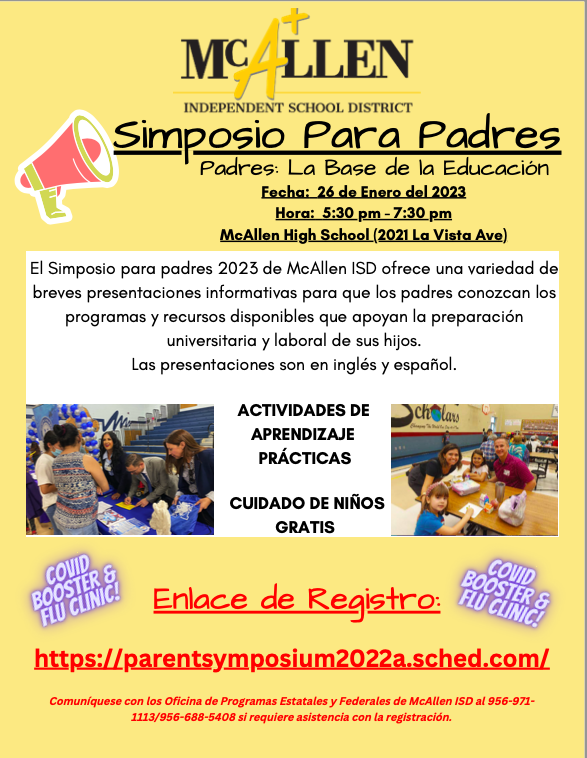 🗓️ Cougar parents, you're invited! McAllen ISD will be hosting the 2nd Annual Parent Symposium at McAllen High School on Thursday, January 26 from 5:30 pm to 7:30 pm. Register here:
https://parentsymposium2022a.sched.com/
. #CougarPride #DistrictOfChampions #GreatnessStartsHere

📍¡Estamos emocionados de mostrar nuestro programa Minitropolis a los padres de Sam Houston! A partir del viernes 27 de enero a febrero, los padres pueden reservar un recorrido por Houstonville. Llame a la oficina para reservar su lugar; solo permitiremos 20 padres cada viernes.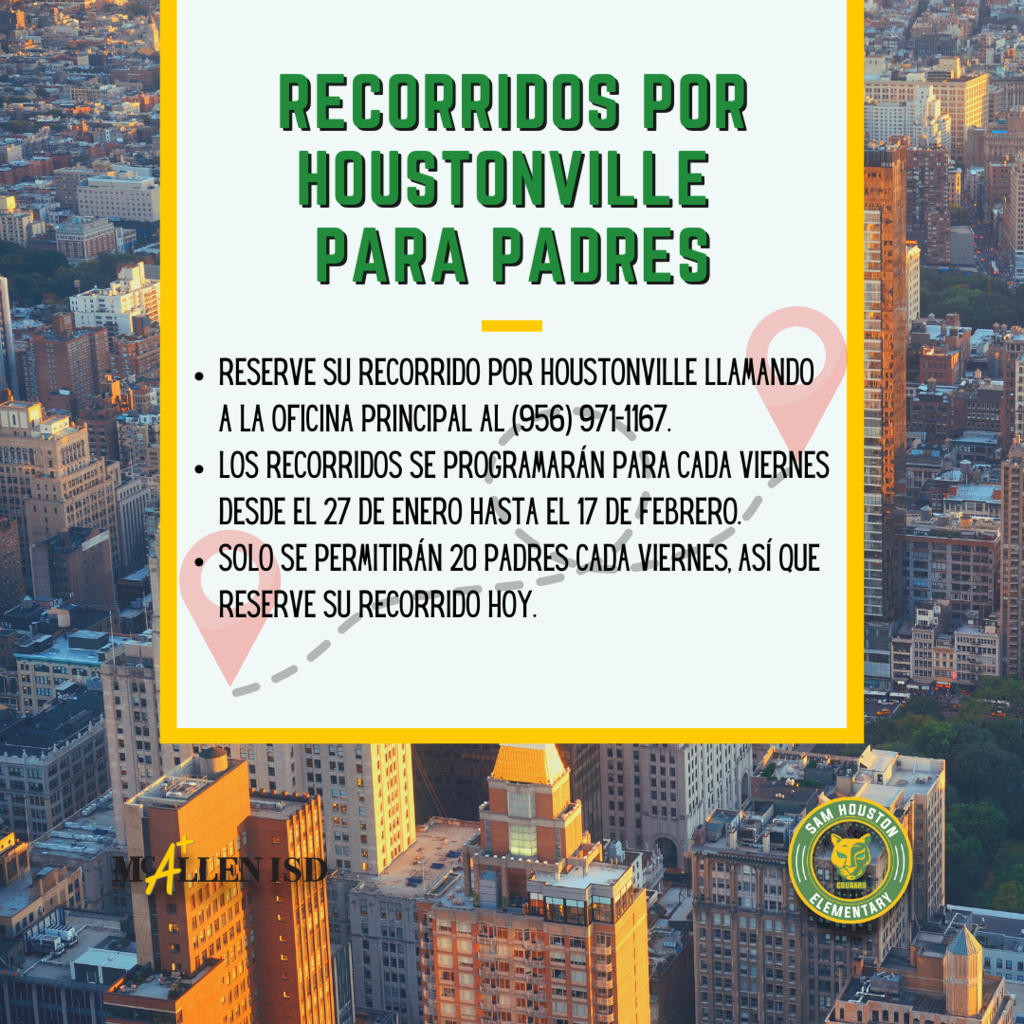 📍🙌 We are excited to showcase our Minitropolis program to Sam Houston parents! Beginning Friday, January 27 through February parents can RSVP to attend a tour of Houstonville. Please call the front office to reserve your spot; we will only permit 20 parents each Friday.💚💛

🇺🇸 Familia Cougar, hoy (lunes 16 de enero) es el Día de Martin Luther King Jr. Conmemoramos la vida y obra del Dr. King, quien fue un destacado líder en el movimiento estadounidense de derechos civiles. #MLKDay #OrgulloCougar #DistritoDeCampeones #LaGrandezaComienzaAquí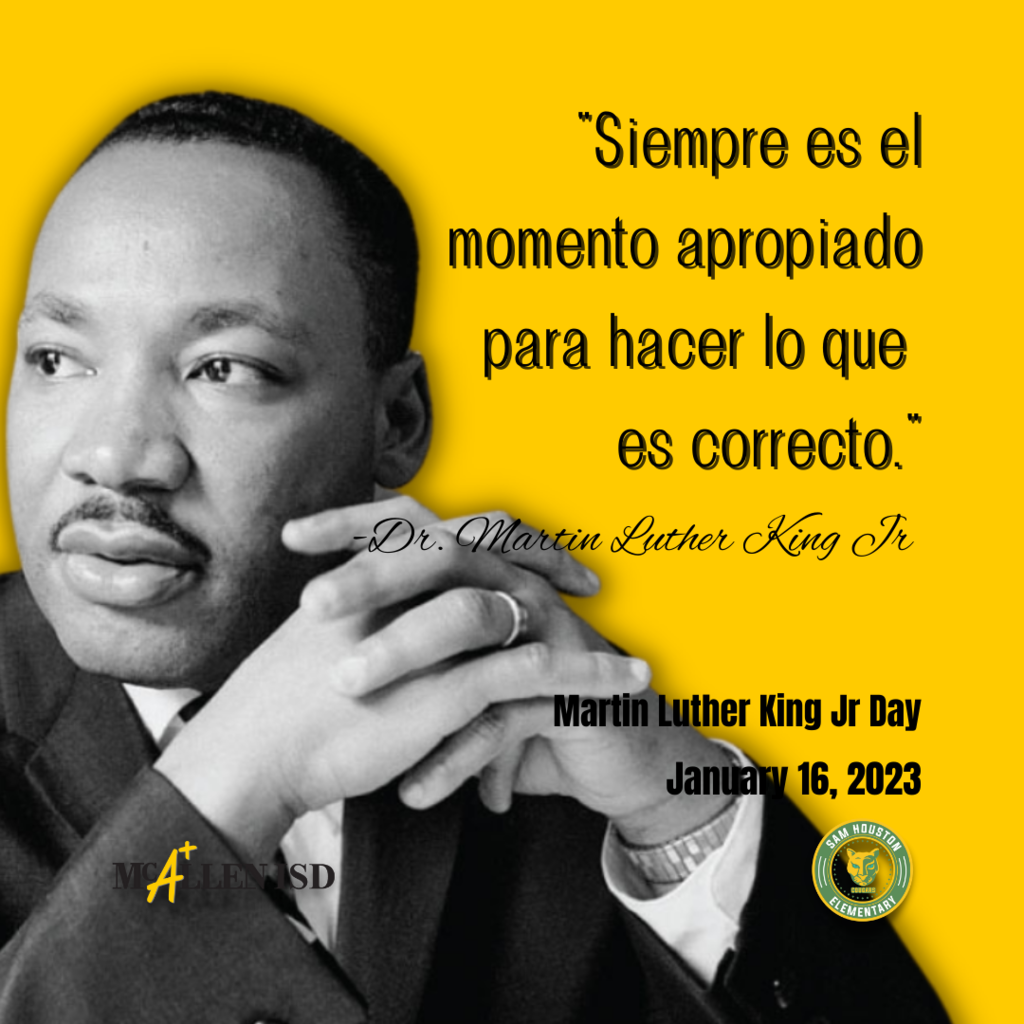 🇺🇸 Cougar family, today (Monday, Jan. 16) is Martin Luther King Jr. Day. We commemorate the life and work of Dr. King, who was a prominent leader in the American civil rights movement. #MLKDay #CougarPride #DistrictOfChampions #GreatnessStartsHere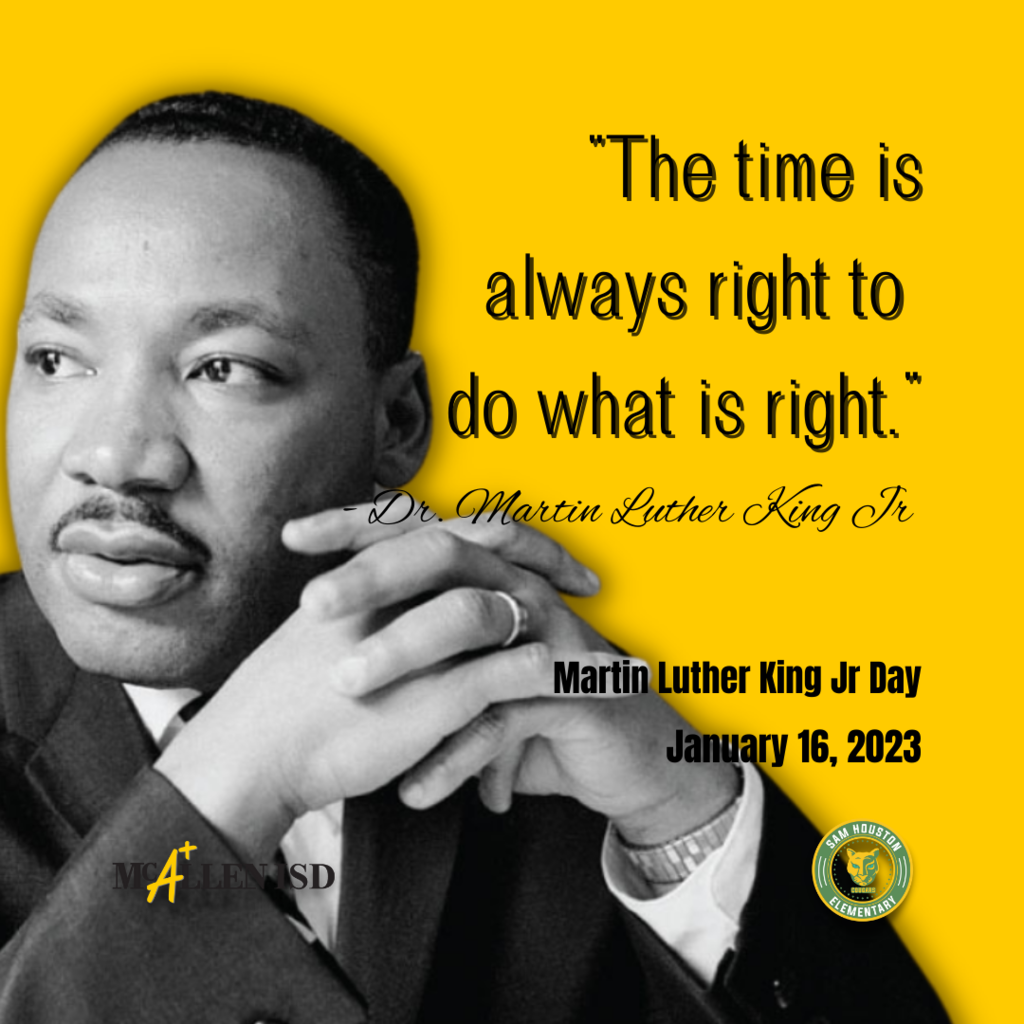 🥳 Cougar family, we have our 3rd six weeks attendance homeroom winners! A big congratulations 👏 👏 to Mrs. Benavidez's Kinder class! 🤩 They get to keep the attendance trophy in their classroom this grading period! 🏆 #CougarPride #DistrictOfChampions #GreatnessStartsHere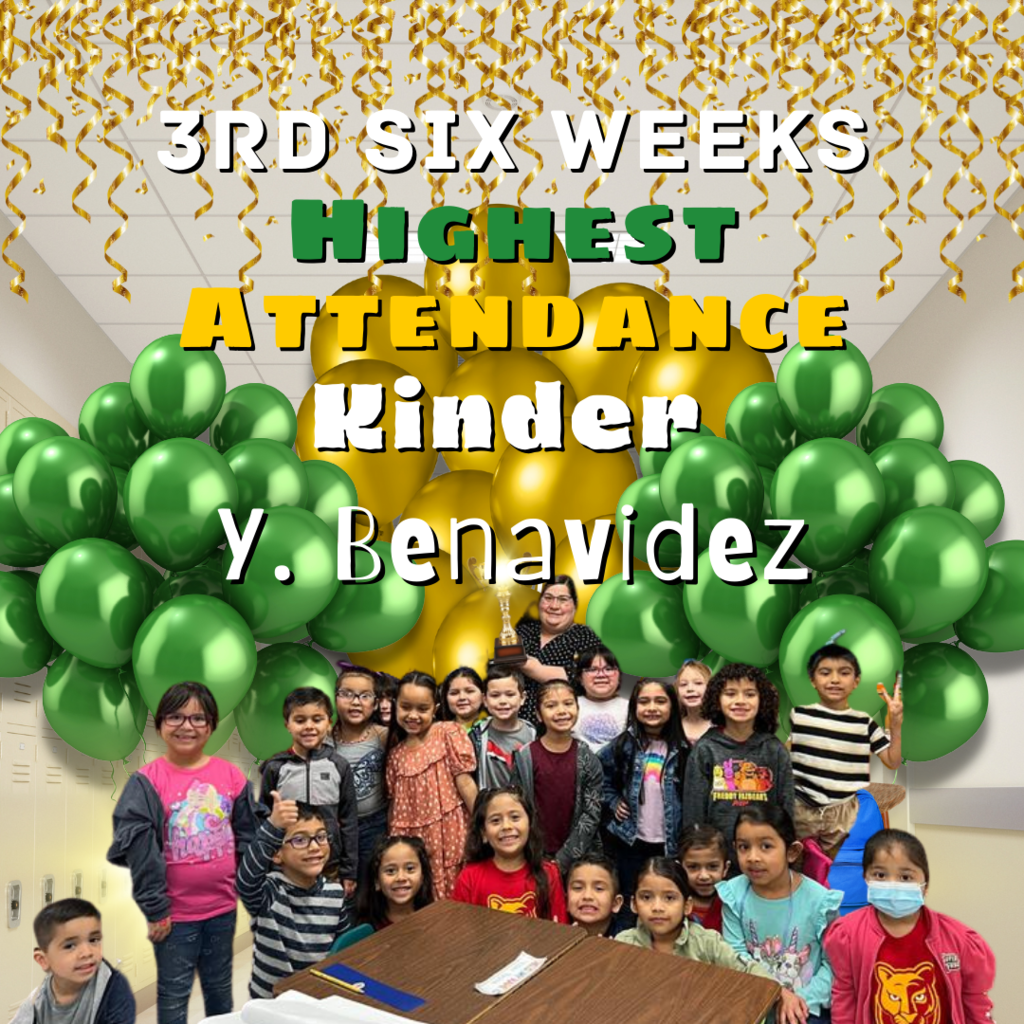 🥳 Cougar family, we have our 3rd six weeks attendance homeroom winners! A big congratulations 👏 👏 to Mrs. Rivera's 3rd grade class! 🤩 They get to keep the attendance trophy in their classroom this grading period! 🏆 #CougarPride #DistrictOfChampions #GreatnessStartsHere

🙌 ¡Familia Cougar, hoy (lunes 9 de enero) es el Día nacional de agradecimiento a los cuerpos policiales! 👮👮‍♂️ ¡Agradezcamos y celebremos al oficial González, al oficial Riojas, y a los cuerpos policiales por su dedicación a la comunidad! 💚🙏💛 #DistritoDeCampeones